SHAFAQNA-
Child obesity rates are skyrocketing globally. Young children spend the lion's share of their time in school, consuming a large portion of their daily calories there and developing lifelong eating habits and food preferences with their peers.
Do the schools attended by children influence their weight? As a child development researcher interested in child education, health and poverty, I recently had the unique opportunity to work with epidemiologist Tracie Barnett to examine this question.
Our resulting study, published in the International Journal of Obesity, found that schools with the unhealthiest food environments were more likely to be located in disadvantaged communities.
We also found children between the ages of 10 and 12 who attended schools with lower-quality food environments had higher amounts of central body fat (or "central adiposity" in technical terms) after two years than children attending healthier schools.
Central body fat is fatty tissue that is stored around the waist and abdomen. It poses a greater risk to long-term health than fat stored elsewhere on the body.
Food environments in schools
To understand how a school may influence a child's weight, we analyzed information on 431 elementary school students attending 246 schools.
All schools were located in urban areas of the province of Québec and were followed as part of Québec Adipose and Lifestyle and Investigation in Youth (QUALITY) — a larger study investigating the evolution and course of childhood of obesity.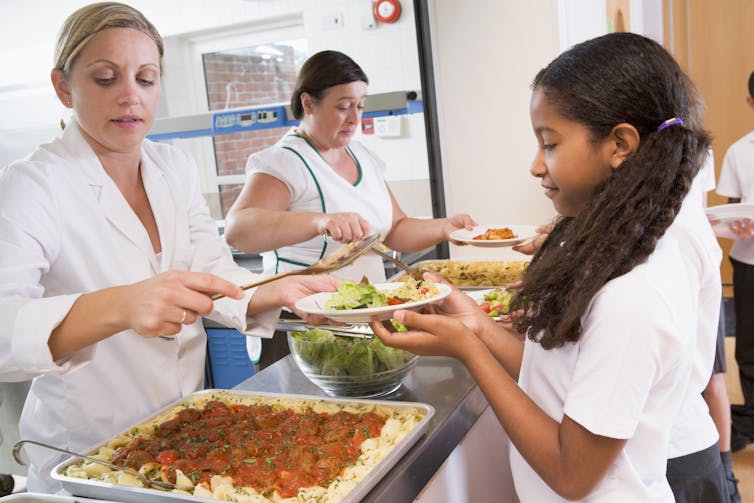 In this sample, we studied the proximity and quality of food that students can easily access at school.
We identified three different school types: 1) those with unhealthy food environments inside the school; 2) those with unhealthy food environments inside and surrounding the school; and 3) those with healthy food environments inside and surrounding the schools.
We assessed the healthfulness of the food environment inside a school using interviews with the school principal, who answered questions about the food sold on the premises and the quality of the school menu.
We measured the food environment surrounding a school by the geographical density of fast-food restaurants and convenience stores within walking distance.
Finally, central body fat was assessed using X-ray technology. This provided us with precise measures of children's lean and fatty body mass.
Our analyses took into account several potentially confounding factors, including family socioeconomic status and parental weight.
Reducing child obesity
A great number of countries — including Canada, the United States and the U.K. — have put in place policies to ensure that high-quality foods are offered and sold within elementary and high schools.
Nevertheless, our research suggests considerable inequality exists among the school food environments available to children.
http://theconversation.com
https://en.shafaqna.com/wp-content/uploads/2017/12/download-7.jpg
194
260
Yahya
https://en.shafaqna.com/wp-content/uploads/2018/10/new-logo-s-en-fine.png
Yahya
2017-12-20 20:26:30
2017-12-20 20:26:30
Is your child's school an obesity risk?