SHAFAQNA IN COLLABORATION WITH WILAYAH  – A new video has emerged showing Myanmar's police using excessive force against Rohingya Muslims in the western state of Rakhine. 
A front-page story on Monday in the state-owned Global New Light of Myanmar newspaper said that the video clip was recorded by a police constable.
The footage shows Myanmar's police beating and kicking young villagers during an 'area clearance' operation. Three officers attack and beat dozens of Rohingya villagers.
Dozens of videos have emerged showing security forces abusing Rohingya, but this is the first time the government has said it will take action over them.
The November 5 incident was a rare official acknowledgment of abuses taking place in the region. The government of Myanmar has vowed to launch a probe into the video that has gone viral on the Internet.
The newspaper cited the office of State Counselor Aung San Suu Kyi as saying  that "measures are being taken to take action against those who violated police force rules." It was still not clear what punishment the police might face.
Several human rights groups and international organizations have blamed security forces for abuses against the Muslim Rohingya minority in Rakhine, including rape, killings and the burning of more than 1,000 homes.
Myanmar's military has launched a fresh wave of crackdown on Muslims since an attack on the country's border guards on October 9 left nine policemen dead. The government blamed the Rohingyas for the assault.
There have been numerous accounts by eyewitnesses of summary executions, rapes and arson attacks against Muslims since the crackdown began. The military has blocked access to Rakhine and banned journalists and aid workers from entering the zone.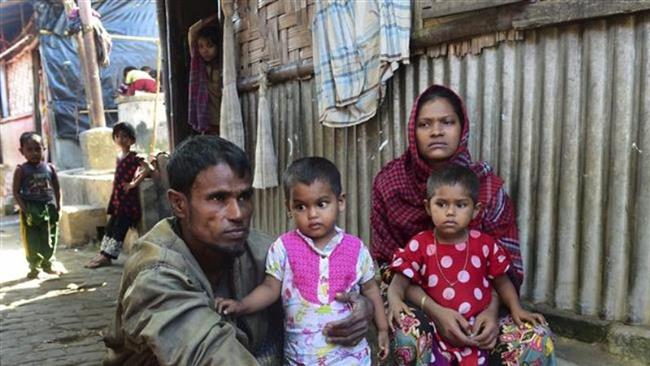 The United Nations has warned that ongoing human rights violations against the Rohingyas in Rakhine could be tantamount to "crimes against humanity."
Suu Kyi, who is herself a Nobel peace laureate, has failed to ensure human rights for the minority Rohingya Muslims facing persecution in the Buddhist-dominant country.
Rakhine has been the scene of communal violence at the hands of Buddhist extremists since 2012. Hundreds of people have been killed and tens of thousands have been forced from homes to live in squalid camps in dire conditions in Myanmar, Thailand, Malaysia and Indonesia.
The government denies full citizenship to the 1.1 million-strong Rohingya population, branding them illegal immigrants from Bangladesh. However, the Rohingyas are believed to be a community of ancient lineage in Myanmar.
According to the UN, the Rohingyas are one of the most persecuted minorities in the world.
https://en.shafaqna.com/wp-content/uploads/2017/01/maxresdefault.jpg
720
1280
catherine
https://en.shafaqna.com/wp-content/uploads/2018/10/new-logo-s-en-fine.png
catherine
2017-01-05 19:01:48
2017-01-05 19:01:48
Footage emerges showing Myanmar police beating Rohingya Muslims